Take dinner to a new level of deliciousness with this Indian adaptation of the well-known American chopsuey, which is serve on a bed of crispy noodle
Take dinner to a new level of deliciousness with this Indian adaptation of the well-known American chopsuey, which is serve on a bed of crispy noodles and top with an addictive sweet-and-spicy sauce. Load up on your preferred vegetables, add a dash of protein, and watch the rest of the family dig in.
American Chopsuey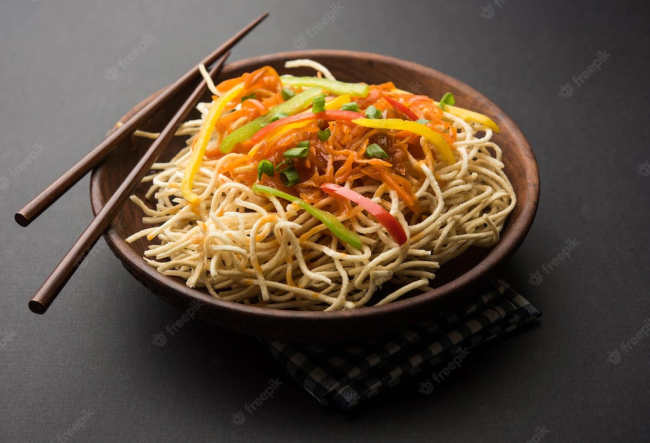 Step-by-step instructions for making American chopsuey. Vegetarian American chopsuey is one of the most popular fusion Chinese recipes in India. This crispy crunchy snack is love by both children and adults. Most Chinese restaurants and street food carts in India serve vegetarian American chopsuey. This American chopsuey recipe produces one of the best tasting vegetarian chop suey.
Ingredients for American Chopsuey:
Soy sauce (naturally ferment), sweet red chili sauce, and homemade tomato ketchup are the sauces in use. You can also use sriracha sauce instead of sweet chili sauce; it tastes just as good and is a little spicy.
You can make chopsuey with sriracha sauce before. Actually, you can mix and match your favorite sauces. Green or red Chili sauce can be in use for a spicy kick.
You can use whichever vegetables you choose – Cabbage, carrots, baby corn, capsicum (bell pepper), button mushrooms, sweet corn, French beans, snap peas, and broccoli are some of the vegetables that can be add. If desired, some sprouts and tofu can be added.
Directions How to Make:
A) For chopsuey, boil the Noodles
1. In a saucepan over medium to high heat, bring 4 cups of water to a boil.
2. To the water, add 1/2 teaspoon salt and 1/4 teaspoon oil. Bring the water to a rapid boil.
3. Reduce the heat to low and add 150 grams of noodles. You can make this dish with quick, whole wheat, Hakka, or all-purpose noodles. Press the noodles into the boiling water with a fork or a spoon.
4. Cook the noodles over medium heat until they are al dente. Taste a few strands of noodle; they should have a slight bite to them. They shouldn't be cooked all the way through.
5. In a colander, strain the noodles. After that, thoroughly rinse the cooked noodles with cold water. When rinsing noodles, mix with a spoon or fork. When the noodles are warm or cool, rinsing with new water can be done with your hands and a light stir. Drain all of the water thoroughly.
6. Place the noodles on a large plate or tray and set aside. Distribute them evenly. Allow 1.5 to 2 hours for the noodles to cool at room temperature. You can start deep frying them after 1.5 to 2 hours.
7. Sprinkle 2.5 tablespoons corn flour (corn starch) on the noodles before frying.
8. Mix thoroughly to coat the noodles in corn flour (corn starch). To combine the ingredients, use a pasta or noodle tong. If you use your hands, the corn flour will stick to your fingertips.
9. In a Kadai or a pan, heat oil for deep frying. Start by adding a few strands of the noodles and frying them if they come up steadily and gradually. If they sink to the bottom, the oil will need to heat up. If they appear too rapidly, the oil is too hot, and the heat should be decreased. Noodles should be added in batches.
10. As soon as you add the noodles, separate them with a slotted spoon. Fry until the base turns a light golden color and crisps up. Then flip it over and fry the other side until it's crisp and golden. Fry until the noodles are golden brown, turning over a number of times. Using a slotted spoon, remove the fried noodles.
11. Drain excess oil by placing fried noodles on kitchen paper towels. Place the crispy fried noodles in an airtight container once they have cooled.
To create American chopsuey sauce, follow these steps:
1. Prepare the vegetables by shredding or finely chopping them. You can either use a food processor or a knife to chop the vegetables. 1/2 cup shredded cabbage, 1/2 cup shredded carrot, 1/3 cup thinly sliced capsicum, 1/4 cup chopped spring onions, 1/2 teaspoon finely chopped ginger, and 1/2 teaspoon finely chopped garlic are all required ingredients.
2. Combine 3 tablespoons tomato ketchup, 1 tablespoon soy sauce, and 1/2 tablespoon sweet red chilli sauce or sriracha sauce in a small mixing bowl. With a spoon, combine the three sauces thoroughly.
3. Combine 2 tablespoons corn flour (corn starch) and 2 tablespoons water in a separate small bowl. Mix everything up thoroughly.
4. In a kadai, or pan, heat 1 tablespoon sesame oil. You can also use sunflower or peanut oil. Reduce the flame to a low to medium setting. 1/2 teaspoon ginger, finely minced, and 1/2 teaspoon garlic, finely chopped Cook for a few seconds, or until the raw aromas of the ginger and garlic have faded.
5. Add 1/4 cup chopped spring onions at this point. Instead of spring onions, you can use onions. Mix thoroughly.
6. Raise the heat to medium-high and stir-fry the onions for a minute. Now toss in the shredded vegetables. Mix thoroughly. On a medium to high temperature, begin to stir fry. Stir fry for 5–5 minutes, or until the edges of the vegetables are golden brown.
7. Lower the heat and stir in the sauces. Combine well with the stir-fried vegetables. Add 1.5 cups of water to the mixture. Mix thoroughly. Stir the corn flour paste (as the corn flour settles) and then pour it into the pan in a steady stream.
8. Season to taste with salt. Because the sauces already contain salt, use less. 1/4 teaspoon crushed black pepper or 1/4 teaspoon black pepper powder Mix thoroughly.
9. Cook for 2 to 3 minutes on a low to medium heat, until the sauce thickens. Check the flavour; there should be no raw taste from the corn flour. 1 teaspoon rice vinegar, apple cider vinegar, or white vinegar is now added. Lemon juice can also be used instead of vinegar. 1/2 teaspoon lemon juice.
10. 1 teaspoon sugar, you can adjust the amount of sugar as needed. Check the flavour before adding sugar, and only add sugar if necessary. Mix thoroughly. Remove the pan from the heat and add 2 tablespoons of spring onion greens.
11. Combine everything thoroughly. It's time to serve the chop suey sauce. Taste and adjust seasonings as needed, such as salt, sugar, black pepper, soy sauce, or any of the sauces.
12. Break up the fried noodles and divide them between two or three serving plates or bowls. The fried noodles are generally broken by me. You could even keep them all together as a single batch of fried noodles. Use 2.5 cups if you're using store-bought fried noodles. As needed, drizzle the sauce over the fried noodles.
13. Add a few spring onion greens as a garnish. You can even add some chopped coriander leaves as a garnish. Serve the veg American chopsuey right away.