One of India's most alluring and mesmerizing states, Kerala has earned the title of "God's Own Country" thanks to its extraordinary natural beauty. K
One of India's most alluring and mesmerizing states, Kerala has earned the title of "God's Own Country" thanks to its extraordinary natural beauty. Kerala offers visitors unique experiences and tourism possibilities that will make their vacations enjoyable and leisurely. The Kerala backwaters' distinctive ecosystem and houseboats make it a popular tourist destination. The brackish lagoons and lakes that make up Kerala's backwaters run parallel to the Arabian Sea. Kerala's houseboats are a distinctive attraction that has drawn travelers from all over the world. India tours would not be complete without a visit to the picturesque backwaters and a stay in a Kerala boathouse.
Kerala is a state located in the southwestern part of India. It is known for beautiful backwaters that offer a unique and memorable experience. The backwaters consist of a network of lagoons, canals, and lakes that are fed by 38 rivers. Houseboats in Kerala's backwaters are one of the nation's most recognizable symbols of Indian tourism. Here is a list of inquiries we receive from visitors looking to reserve a houseboat package. If you intend to travel to Kerala, you could have some of these inquiries as well.
What distinguishes Kerala Backwaters from other places?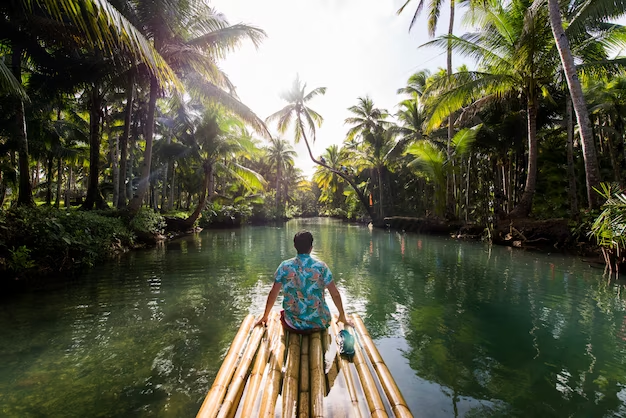 One of the best ways to explore the backwaters is by taking a houseboat ride. Houseboats are traditionally known as "kettuvallams," which were used to transport goods in ancient times. Today, they are a popular way to experience the serene beauty of the backwaters and have become an iconic symbol of Kerala tourism. The backwaters of Kerala are a labyrinthine system made up of more than 900 km of waterways that are connected by canals, rivers, lakes, and inlets. There are several towns and cities scattered throughout this region that are used as the beginning and end sites of backwater tours. The backwaters have a unique ecology as a result of the interaction between freshwater from the rivers and seawater from the Arabian Sea.
Saltwater from the sea is forbid from penetrating the deep interior of some locations, such as the Vembanad Kayal, where a barrage has been in construction close to Kumarakom, preserving the fresh water. These freshwater resources are frequently in use for irrigation.
Different types of houseboats in Kerala: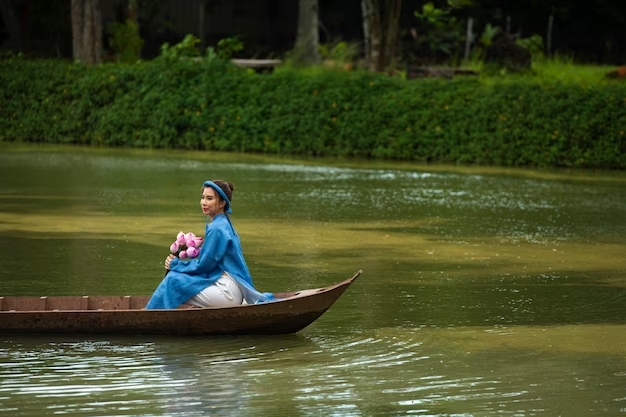 There are many different types of houseboats available in Kerala, ranging from basic to luxurious. The basic ones usually have one or two bedrooms, a small kitchen, and a dining area. The luxurious ones, on the other hand, come with air-conditioned bedrooms, a living room, a dining area, and a deck to enjoy the views. The houseboats are entirely of natural materials like bamboo, coir, and wood, which gives them a rustic charm.
A typical houseboat ride lasts for about 22 hours, and it usually starts from Alleppey or Kumarakom. As you cruise along the backwaters, you will see lush green paddy fields, coconut groves, and small villages on the banks. You can also spot a variety of bird species, including kingfishers, egrets, and ducks.
The houseboats also offer a unique dining experience, with freshly cooked traditional Kerala cuisine served on board. The menu usually includes rice, sambar, vegetables, fish, and chicken, all cooked with a blend of aromatic spices. You can also request for specific dietary requirements, like vegetarian or Jain food.
Apart from houseboats, there are many other ways to explore the backwaters of Kerala. You can take a canoe ride or a motorboat ride, which allows you to explore the smaller canals and waterways. The canoe rides are usually in conduct by locals, who can give you a glimpse of their daily life and the culture of the region.
You can also opt for a village tour, where you can visit the local markets, interact with the villagers, and witness the traditional art forms of Kerala, like Kathakali and Mohiniyattam. You can also try your hand at fishing or clamming, which is a popular activity among tourists.
For those interested in eco-tourism, there are many initiatives in Kerala that promote sustainable tourism. You can stay in eco-friendly resorts, which use renewable energy sources and practice waste management. You can also participate in tree-planting drives or clean-up campaigns, which contribute to the conservation of the backwaters.
Conclusion
In conclusion, exploring the backwaters of Kerala is a must-do activity for anyone visiting the state. Whether you choose to take a houseboat ride or explore the smaller canals on a canoe, the backwaters offer a unique and serene experience. With the traditional cuisine, cultural experiences, and eco-tourism initiatives, Kerala's backwaters have something to offer for everyone.