Choose an under-eye cream that can minimize the appearance of dark circles and puffiness, which has antioxidants, and has a light texture. Coffee oil
Choose an under-eye cream that can minimize the appearance of dark circles and puffiness, which has antioxidants, and has a light texture. Coffee oil is an essential component of eye cream for dark circles and has anti-inflammatory as well as antioxidant characteristics that keep the skin healthy. While coffee oil also reduce swelling and puffiness that can lead to under-eye bags.
Caffeine, which is present in coffee oil, enhances blood flow and lessens under-eye circles. Coffee oil has a natural substance called tannin that helps constrict blood vessels and enhance blood flow, hence minimizing puffiness and dark circles. In addition to coffee oil, it's crucial to use components that hydrate, moisturize, and soften the skin around the eyes. On moisturized skin, wrinkles and fine lines are less to emerge. A wrinkle-preventing eye cream should have hyaluronic acid as one of the primary ingredients.
In contrast, hyaluronic acid, which is a naturally occurring substance in our skin, has the extraordinary capacity to store 1,000 times its weight in water. But as we age, the amount of hyaluronic acid in our skin it starts to decline. Using skincare products enriched with hyaluronic acid can help the skin retain moisture and stay soft. Chia seed oil is an additional organic component to take into account while choosing an under-eye cream. Chia Seed Oil has a lot of antioxidants and Omega 3 fatty acids, which keeps the skin moisturized and minimize the look of fine lines and wrinkles. All skin types can use chia seed oil because it is light and readily absorbed.
Vitamin B3, commonly known as niacinamide, is another element to take into account while selecting an under-eye cream for dark circles. Vitamin B3 evens out skin tone and lessens pigmentation and dark spots. Additionally, it helps to lessen wrinkles and fine lines, improving the appearance of the skin around the eyes.
Do eye creams have any value?
Do you really need a specific skin care item for your under-eye area? If you already use a face moisturizer, a night cream, sunscreen (with at least SPF 30), and other products in your routine to address your skin-care issues, it might seem excessive. And you should be okay to keep using those products if you can do so without experiencing any stinging, irritation, or other issues on your under-eye area. However, according to skin care experts, there are some very good reasons to think about purchasing an eye cream separately.
Which is superior, an under-eye serum or cream?
Eye creams are thick and serve primarily to hydrate the area around the eyes. Our eyes' surrounding skin is particularly delicate and prone to dryness. Early aging symptoms including wrinkles, fine lines, and crow's feet are brought on by dryness. Eye creams keep the area around the eyes moisturized and lessen puffiness. Creams can only supply moisture at the surface because they are thicker. Eye serums have a very light texture and weight. They penetrate our skin deeply because they include a variety of nutrients and have collagen-boosting qualities. A dermatologist-recommended eye serum moisturizer while minimizing fine lines, wrinkles, and puffiness. Additionally, it increases skin suppleness and firms the skin around the eyes.
Top under-eye creams!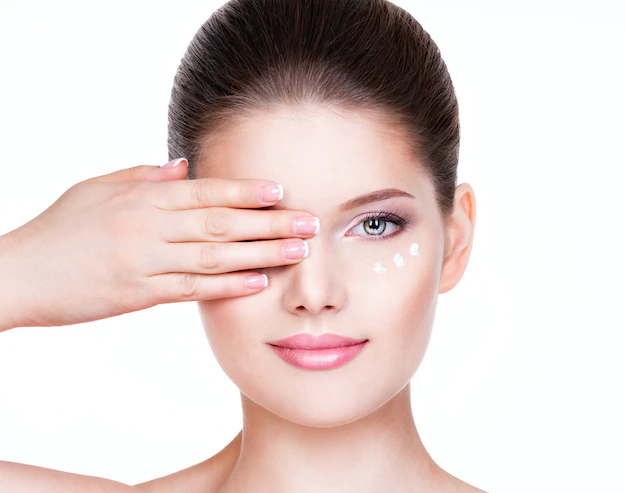 1.Ceuticoz Perivite Under Eye Cream
A fresh face in the dermatology world, it's where Ceuticoz creates cutting-edge products for the prescriptive cosmetic market. Pigmentation under the eyes can be brought on by the presence of byproducts such biliverdin, bilirubin, and other substances. Ingredients in Ceuticoz's under-eye lotion work to lessen puffiness, eye bags, and dark circles.
2. Color Bar Timeless Lift Miracle Under Eye Recovery Concentrate
The VitaLift component, added to the Colorbar under eye cream, encourages the formation of collagen and elastin to lessen the visual signs of premature aging. It is made using a composition that fights aging and is good for the skin.
3. Olehenriksen Banana Bright Eye Crème
You've found the perfect eye cream if you're looking to hydrate, brighten, prepare your under-eye area for makeup, and lessen the appearance of fine lines and wrinkles. It has brightening pigments, collagen, and vitamin C to improve the appearance of the eye area every time you use it.
4. Skyn Iceland Hydro Cool Firming Eye Gels
Using a moisturizing and cooling under eye mask in the morning is the greatest approach to minimize puffiness and brighten up the region around your eyes. These transdermal gel patches moisturize and rejuvenate your skin in just ten minutes by delivering active compounds like Coenzyme Q10, peptides, and mineral-rich Icelandic glacial water to the region.
5. Arata Aloe Vera Under Eye Gel
In order to lessen the appearance of dark circles, reduce the appearance of fine lines, soothe and firm your skin, and reduce the appearance of dark circles, this under-eye gel is formulated with calming aloe vera, coffee oil, black tea extracts, Vitamin C, and chamomile extracts.
6. Quench Mama Cica Dark Circle Fading Under Eye Cream
This eye cream will brighten and hydrate the skin around your eyes because it contains cica, hyaluronic acid, orange peel oil, licorice root, and ginseng. The metal rollerball is the ideal addition to your morning routine because it also has a cooling and de-puffing effect.
7. 111Skin Celestial Black Diamond Eye Cream
Every time you apply this eye cream, all age indications are combated. The effective mixture uses argireline to target wrinkles, licorice root to lighten pigmentation, and centella asiatica to fortify your skin and increase collagen production.
8. Nuxe Merveillance Expert Anti-Ageing Lifting Eye Cream
You can rely on this eye cream, which is formulated with caffeine, peptides, and the brand's proprietary firming Daylily Oléoactif®, to address the visible indications of aging around the eye area. As it fills in lines and wrinkles, tightens and lifts the region around your eyes, and reduces the appearance of puffiness and dark circles.
9. The Mom's Co. Natural Vita Rich Under-Eye Cream
Mom's co. Products are free of animal cruelty and dermatologically tested. The business consciously works to accommodate the needs of all new mothers, expectant mothers, and infants. They provide a huge selection of goods, including body butter, body products, and shampoo for hair. Their entire line of products is all-natural and free of dangerous toxins and chemicals. The Moms Co.'s Natural Vita Rich Under Eye Cream help to lessen puffiness and dark circles under the eyes.
10. The Skin Story Under-Eye Intensive Gel
The Skin Story Under Eye Intensive Gel, has been scientifically proven to be non-toxic. A hydrated light gel cream composed of Resveratrol, Plant extracts, Witch Hazel, Niacinamide, and Vitamin Complex. Instantaneously penetrating the deeper skin layers beneath your eyes, this gel's contents nourish skin while chilling it. Dermatologists have affirmed that all skin types can safely use the solution's all-natural active ingredients.
Conclusion
The skin around your eyes doesn't require complicated maintenance. Although there are a few factors to consider while looking for the best eye cream to treat your issues. The best eye cream for your various skin-care needs can be found by consulting the skin care professionals. In search of solutions that actually work, dermatologists recommended the top under-eye creams on the market.