Nothing is to be compared to delicious, freshly made snacks from your kitchen! For evening snacks check out these fantastic collection of dishes! The
Nothing is to be compared to delicious, freshly made snacks from your kitchen! For evening snacks check out these fantastic collection of dishes! These dishes for evening snack is as simple as they come.
1.Bread Spring Roll Recipe
Bread Spring Rolls in 10 Minutes is a quick and easy recipe for a deep-fried snack made using leftover slices of bread and spring roll filling. One of the most popular snacks is Asian spring rolls, however making the spring roll sheets can be challenging. To solve this issue, use bread slices instead of those same sheets for some evening snacks. And then see they will produce a similar flavour and crispness.
Ingredients
Bread slices with trimmed edges (one bread for one roll)
Maida: Make paste with 2 spoons and water.
Vegetables: Finely minced purple cabbage, spring onion leaves, grated carrots, cabbage, and capsicum.
To taste, add salt and pepper.
Soya sauce Sugar, 1/2 teaspoon (optional)
Finely chopped garlic or paste 1/2 tsp
Oil for frying, one tablespoon
Instructions, How to Prepare?
Add very little oil to a pan, then saute the garlic and add the white part of the spring onion. On a high burner, add each vegetable one at a time and then stir it well.
Mix everything well after adding sugar, salt, and pepper. Vegetables must be crisp and mixed thoroughly after adding soya sauce.
Verify the seasoning and then add if necessary. After transferring, set them aside to cool for a while.
Cut the edges of the bread. Roll it thinly with the aid of a rolling pin. Place a generous spoonful of vegetables to the bread's end.
Apply maida paste to the bread's four corners, roll it up as tightly as you can, and then seal it with extra paste.
Repeat this with all the bread. The bread should be fried in the oil until it is in a golden brown colour and then should be transferred to paper towels to absorb any remaining oil.
Put all of them on a serving tray and serve with hot garam chai and condiments like ketchup, spicy mayo, or chilli sauce.
2. Spicy Potato Stuffed Semolina Snacks without Bread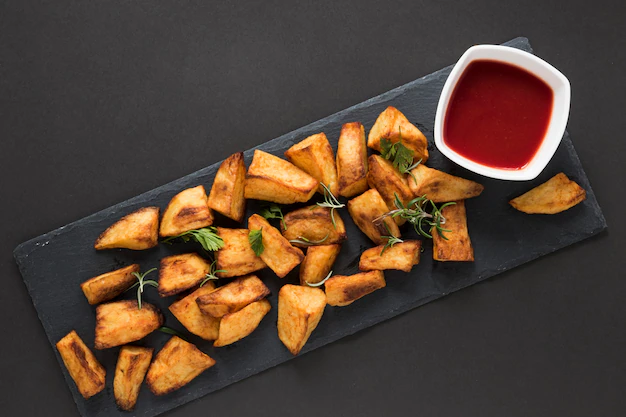 Using rava, potatoes, and a variety of spices, this hearty sandwich recipe is both easy and tasty for your evening snacks. It is a quick and wholesome substitute for the well-known bread-based sandwich, which comprises of semolina-made bread that has been stuffed with a hot, spicy potato stuffing. It is typically served as a breakfast street dish, but it can also be eaten as a straightforward snack or a light dinner.
Ingredients
Components For The Outer Layer
Semolina 2 cups of salt, to taste, and 1 cup of water
Ingredients for stuffing
Mashed and Boiling Potatoes 2 Teaspoons of Garam Masala and 1/2 Cup of Ginger-Garlic Paste a tablespoon of red chilli A half-teaspoon of chat masala Coriander powder, as needed, 1 teaspoon oil, and 1/2 teaspoon.
Instructions, How to prepare it?
First, boil some water in a nonstick pan. When the water begins to boil and add some semolina and salt to taste then stir constantly to prevent any lumps from forming.
Stir continuously until the semolina mixture leaves the pan and resembles a mass. Put it aside right now to cool. Now, warm 1 Tablespoon Oil in a Pan for the Stuffing. Saute for 1 minute after adding the ginger-garlic paste.
Now stir in the potatoes and all of the spices. Saute for a few minutes till the ingredients are well combined. Turn off the flame and leave the area to cool.
Heat the oil now for frying. Take a semolina ball the size of a Ping Pong Ball and flatten It on your palm. Place the prepared potato mixture inside and neatly seal the edges with semolina.
It should be deep-fried on a low flame until the kachori is crisp and golden on both sides. Prepare all of the kachoris in this manner, then serve them warm with chutney or sauce.
3. Veg Fingers Recipe
A wonderful dish made with mixed vegetables that makes the ideal party appetiser or starting with snacks. It is essentially an addition to or substitute for the vegetable cutlet recipe, where the vegetables are formed into fingers and coated in breadcrumbs until they are a crisp golden colour. With a choice of tomato ketchup or chilli mayo sauce, it may be the ideal snack recipe for any occasion or presented as an evening tea time snack.
Ingredients
Ingredients Vegetable mixture
1.5 tbsp oil
½ onion (finely chopped)
2 peppers (finely chopped)
One carrot (chopped)
3 tbsp. sweet corn
3 tbsp. peas
1/2 of a capon (chopped)
2 potatoes (boiled & mashed)
1/2 tsp. of chilli powder
Cumin powder, 1/2 tsp.
Garam masala, 1/2 tsp.
1/2 tsp of pepper powder
Chaat masala, 1/2 tsp.
1/2 tsp. red pepper flakes
1/2 tsp. of mixed herbs
1/4 cup breadcrumbs and 1/2 tsp. salt
Ingredients for slurry
1/4 cup maida and corn flour
1/4 teaspoon pepper powder and salt
Water, 1/4 cup
Additional Components
(For coating) Panko breadcrumbs with oil (for frying)
Instructions, How to prepare it?
First, heat 2 tbsp of oil in a pan. Add a half-onion, two chilies, and cook until the onions are tender. Add 1 carrot, 3 tablespoons sweet corn, 3 tablespoons peas, and 1/2 a red chilli now. Sauté the vegetables until they get crisp.
Afterward, transfer to a sizable basin to finish cooling. 2 potatoes, 1/2 tsp each of salt, cumin, pepper, garam masala, chaat masala, chilli flakes, and mixed herbs, as well as 1/2 tsp of each spice. Make sure everything is well mixed by thoroughly squeezing and mixing.
Create a silky, non-sticky dough by adding 1/4 cup of breadcrumbs right away. Take 3/4 cup corn flour, 1/4 cup maida, 1/4 tsp pepper powder, and 1/4 tsp salt in a basin to make the slurry. Make a smooth, lump-free batter by adding 1/4 cup of water.
Form the vegetable mixture into finger-sized pieces at this point. Dip in corn flour slurry, then breadcrumb-coat. You may either deep fry the food right away or freeze it for up to two months in a zip-top bag. Fry the fingers until they are crispy and golden brown, stirring periodically. To drain off extra oil, place it on kitchen paper. Finally, savour some tomato sauce on some veggie fingers.
4. Potato Garlic Rings Recipe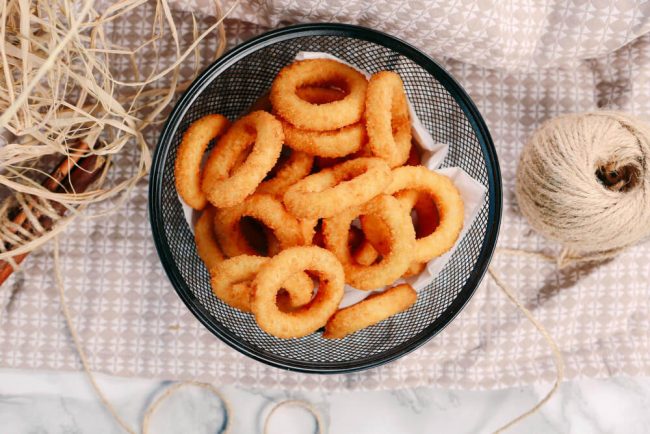 Using mashed potatoes and garlic, this dish for a simple and quick potato snacks this is produced. It is essentially a variation on the Ring Murukku recipe prepared with potatoes and garlic-flavored cornflour. It is the ideal and delectable evening snacks food, and it can be served with or without a spicy red chutney or schezwan chutney.
Ingredients
2 Potatoes
Garlic (lahsun) & cloves (4)
3 Green chilies, Semolina (soji), Cooking oil 1/2 cup, 2 teaspoons of salt (namak), Chili flakes 1/2 a teaspoon (kuti lal mirch), 1 heaping teaspoon
Cayenne powder (pisa zeera) half a teaspoon
Powdered turmeric (haldi) 2 teaspoon, Water 1/2 cup
A couple of chopped hara dhania leaves of fresh coriander
Whole-wheat flour (maida) 1/3 cup or 2 tablespoons
Risotto flour (chawal ka atta) 1/3 cup or 2 tablespoons
Cornmeal 1/3 cup or 2 tablespoons
Deep-frying oil for cooking
Instructions, How to prepare it?
Peel the potatoes after boiling them. Potatoes should be mashed and set aside. Garlic and green chilies should be chopped finely and set aside as well. Now put the semolina to a grinder and give it a good grind. Add cooking oil to a wok and warm it over a medium temperature. Add the finely sliced garlic to the oil and toast it for a couple of seconds to let the aroma come out.
Salt, chilli flakes, cumin, turmeric, and chopped green chilies are next added, and everything is thoroughly mixed. Fill the spice mixture with 1/2 cup of water. Turn the heat to low once the water begins to boil, then stir in the ground semolina. Semolina should be cooked until the water has evaporated.
The semolina will absorb the water and become fully cooked in 30 to 40 seconds. At this point, thoroughly incorporate the semolina and mashed potatoes. After extinguishing the flame, let the mixture aside to cool completely.
After the mixture has cooled, combine all-purpose flour, corn flour, and rice flour with it. Also add the chopped fresh coriander. To achieve a dough-like consistency, combine everything. Place the dough on the work area after lightly dusting it with flour. To spread it, first gently press it with your palms. Then using a rolling pin, gently shape it into a thick, flat bread shape. A paratha or roti should not be thinner than the thickness.
Use a cookie cutter to make a cut (the size should be up to you), and then make a small hole in the centre (like donuts). Complete the process and set away all the rings afterward. Put enough deep-frying oil in the pan and heat it over medium heat.
Add the potato rings and cook them in the oil until they are golden brown. Each set of rings will require 3 minutes of frying. The rings should be fried on medium heat because high heat would prevent them from becoming crispy. Remove the fried potato rings and serve them with your preferred condiment, such as ketchup.
5. Vegetable Lollipops
A simple recipe for a deep-fried snacks made with mixed vegetables, spices, and herbs. It is essentially a vegetarian substitute for the chicken lollipop version for vegans and vegetarians. It may be the ideal nibbling snack that can be served with a selection of hot and sour dips, such as tomato sauce or mayonnaise, for any occasion or event.
Ingredients
Vegetable Stuffing
3 potatoes (boiled & mashed)
½ onion (finely chopped)
3 tablespoons capers (finely chopped)
1/2 carrot (grated)
2 tbsp. peas
3 tbsp. sweet corn
2 garlic cloves
1/2 tsp. of mixed herbs
1/4 teaspoon pepper powder
1/2 tsp. of chilli powder
Cumin powder, 1/2 tsp.
Garam masala 1/2 tsp.
1/2 teaspoon of salt
3 tbsp. chopped spring onions;
1/4 cup breadcrumbs
As for slurry
Maida, 1/4 cup
1/4 cup cornmeal and 1/4 teaspoon pepper powder
2 cloves of garlic and half a teaspoon of salt (finely chopped)
Water, 1/2 cup
Additional components
Panko breadcrumbs, 1 cup Oil (for frying)
Chipotle mayo sauce
1/2 cup eggless mayo
2 tablespoons hot sauce
Instructions, How to prepare it?
First, place 3 potatoes in a big bowl. Before using, make sure to boil the potato and allow it cool fully. Include a half-onion, a carrot, a cup of capsicum, a cup of sweet corn, and two garlic cloves as well. Add an additional 1/2 tsp mixed herbs, 1/4 tsp pepper powder, 1/2 tsp cumin powder, 1/2 tsp garam masala, and 1/2 tsp salt.
1/4 cup breadcrumbs and 3 tablespoons of spring onions should added. The moisture absorbed by the breadcrumbs, which also keep it from splitting while fried. Create a soft dough and, if necessary, add breadcrumbs. Now evenly pinch a piece of dough the size of a ball. put aside. Take 3/4 cup maida, 1/4 cup cornflour, 1/4 tsp pepper powder, 1/2 tsp salt, and 2 cloves of garlic in a basin to make the slurry.
A smooth slurry is made by thoroughly mixing in 1/2 cup of water. Roll the vegetable ball in breadcrumbs after dipping it in the slurry. Keep the flame on medium while deep frying in hot oil. Fry the ball until it turns golden and crispy. To get rid of extra oil, drain off.
Take 1/2 cup eggless mayonnaise and 2 tbsp. of chilli sauce and combine them in a bowl to make chilli mayo sauce. Then the sauce needs to be thoroughly blended. Last but not least, stab the lollipops with a toothpick and eat them with the chilli mayo sauce.