1.Malai Korma with double elm leaves You and your family will appreciate this creamy, delicious Vegetable Malai Korma throughout Diwali and afterw
1.Malai Korma with double elm leaves
You and your family will appreciate this creamy, delicious Vegetable Malai Korma throughout Diwali and afterwards. Elmlea double, which doesn't split when cooked, lasts longer both opened and unopened than fresh cream and is lower in fat, gives the dish its creamy texture. Any leftovers in the carton can be mixed with salad dressing, stews, and other dishes! To mop up your Vegetable Malai Korma, have some ready-made naan or flame-grilled chapatis.
Ingredients:
1.5 tbsp/45 ml Double Elmlea
1.5 tbsp oil
100g of finely chopped onion
two medium carrots (100 g each), two cloves of minced garlic, and a half inch of grated ginger
Several beans, four young potatoes, cut, and quartered
two hot cups of water
1/8 teaspoon of turmeric
1 teaspoon dried coriander
Cumin powder, 1 teaspoon
12 teaspoon of chilli powder
1 cup tomato puree
1-tablespoon cashew butter
Frozen peas in one cup.
1/4 teaspoon garam masala
nutmeg and two green cardamoms' powdered seeds
A few cashew nuts as a garnish
Method:
In a wok or sizable frying pan, heat the oil to a high temperature. Add the onions, ginger, and garlic when it's hot, and sauté for 10 minutes, or until golden.
As soon as the potatoes' edges start to turn translucent, add the carrots, beans, and potatoes and stir thoroughly for a minute. Add the spices and stir to evenly distribute them before adding the tomato puree.
After that, add the hot water, and let the vegetable bubble for 15 to 20 minutes, or until a potato can be easily pierced with a fork. In the interim, combine Elmlea Double and cashew butter in a bowl.
When the veggies are finished cooking, add the frozen peas and whisk in the Elmlea Double and cashew combination. Stir in the garam masala, a grating of fresh nutmeg, and the powdered cardamom while letting it simmer for a few minutes. As desired, add salt.
To garnish the Vegetable Malai Korma before serving, lightly toast the cashew nuts in a small frying pan without any oil.
2. Aloo Matar
One of the traditional North Indian cuisines that holds a particular place in every Indian's heart and house is aloo matar. Every family has its own recipe for this potato and pea saute, which comes in a variety of forms.
Here are some suggestions to spark your imagination: No asafoetida, no issue. Simply leave it out 2. Replace it with diced, peeled white potatoes 3. Combine the whole cumin with freshly minced garlic. 4. Combine the turmeric and chilli with half a teaspoon each of ground cumin and coriander. 5. To make it spicier, add more ground red or chopped green finger chilies. 6. Use two tablespoons of concentrated tomato puree in place of the fresh tomato. 7. Add chaat masala or Amchoor (mango powder) to the garam masala for a tangy twist. 8. Use a squeeze of lemon in place of amchoor or chaat masala if you don't have either. Of course, you could include extra vegetables.
Ingredients:
450 grammes of fresh potatoes
1 tablespoon of oil
An asafetida pinch (hing)
1 teaspoon whole cumin
two big tomatoes
Ground turmeric, 1 teaspoon
1/8 teaspoon ground chilli
Peas, 2 cups
To serve, 1 tablespoon fresh coriander
Salt as desired
Method:
The potatoes must first be carefully washed and cut into discs. They don't require pre-cooking or peeling. The tomatoes should also be roughly chopped into small bits.
In a wok, heat the oil to a high temperature. When it is hot, add the cumin seeds and asafoetida. Add the tomatoes, turmeric, and chilli as they start to sear. For two minutes, stir this thoroughly until the tomatoes begin to wilt.
Incorporate the potatoes now. Stir well to ensure that the potatoes are thoroughly coated with the spice paste, add half a cup of water, reduce the heat to medium, cover, and cook for 15 to 20 minutes, or until a fork can be easily inserted into a potato disc. Keep tossing the potatoes gently to prevent the spice paste from sticking to the bottom. And if it does, you can slough it off with your spoon after adding a little hot water.
Add the frozen peas once the potatoes have finished cooking. Cook for two more minutes with a cover on. Next, add salt to taste and whisk in the garam masala. Before serving your hot Aloo Matar, top with fresh coriander and preferably a flatbread of your choosing.
3. Paneer Jalfrezi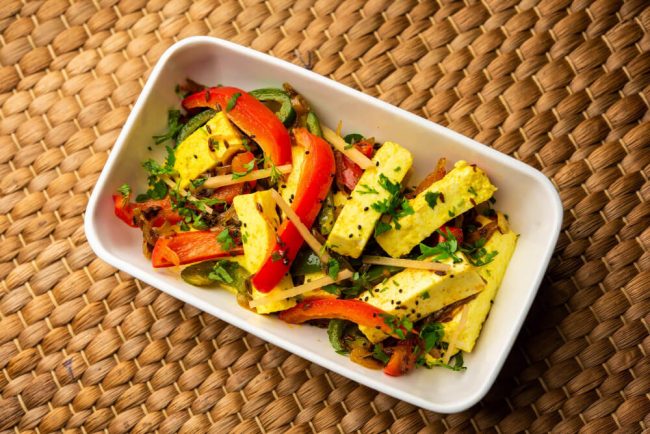 Weeknights are ideal for simple one-pot meals, and Paneer Jalfrezi consistently meets the need. This moist meal, which has soft bits of paneer stir-fried with peppers and onions, is seasoned with flavours that complement rather than overshadow it. This is essentially our version of a stir fry because Jhal means fiery hot and Frezi means fried. The nicest part of this recipe is that it doesn't require a tonne of specialty ingredients that call for a trip to the store. Make soft chapatis frequently to go with the whole thing and save all that time and work.
Ingredients:
Paneer, 225gm
1-tablespoon tomato puree
two little green peppers (capsicum)
1 onion
1 teaspoon whole cumin
1/8 teaspoon of turmeric
12 teaspoon of coriander powder
12 teaspoon of chilli powder
1/8 teaspoon garam masala
fresh cilantro (optional)
1 tablespoon of oil
Salt as desired
Method:
Along with the paneer and onion, deseed the peppers and dice them. When the oil is hot, add the cumin seeds with a spoon, and as they begin to sizzle, add the paneer and vegetables. Get them moving.
Next, combine two tablespoons of heated water with the spice powders and tomato puree. Douse the paneer and vegetables with this. Stir-fry on high until the paneer begins to turn brown in spots and the vegetables soften.
To finish, combine the salt and garam masala to your taste. To serve, you may include chopped coriander.
4. Aloo Methi Curry
Let's decide on a delicious and straightforward meal that uses fenugreek leaves. In Indian cuisine, fenugreek is used as entire seeds, dried leaves (kasoori methi), and fresh or frozen leaves. Although the leaves are bitter, they are frequently eaten with potatoes or carrots to soften their flavour. The harshness of the leaves is offset by the creamy yoghurt in this straightforward aloo methi curry recipe, creating a more harmonious flavour.
Ingredients:
4 frozen fenugreek leaf cubes (or two bunches fresh)
2 cubed potatoes (400gm)
4 green peppers
1 small onion
two cloves
0.5 inch of cinnamon
sprinkling of coriander
1 teaspoon cumin seeds
the ginger
thick natural yoghurt, 1 cup
1 tablespoon of butter
1 tablespoon of oil
Salt as desired
Method:
Bring the yoghurt to room temperature by removing it from the refrigerator. Use a food processor or hand blender to combine the onion, whole spices, ginger, chilies, and coriander into a smooth puree. Just finely chop the onion, chilies, and ginger if you don't have one.
When the green mixture darkens and no longer smells raw, cook the ingredients listed above for 10 minutes in hot oil. If you want to keep the mixture from adhering to the pan, you might need to keep adding water.
Add the potatoes and cook them until transparent on a high heat. Yogurt, a cup of water, and cook covered on medium heat until a piece of potato can be somewhat easily pierced with a fork.
After that, toss in the methi/fenugreek leaves and continue cooking the potatoes covered over a medium flame until they are tender. Keep stirring gently throughout the entire 20 minutes to keep the curry from sticking to the bottom of the pan. Although parboiled potatoes might be used, the flavour of the spices wouldn't be as strong.
Aloo Methi Curry is then finished by stirring in the butter and simmering for five minutes.
5. Jeera aloo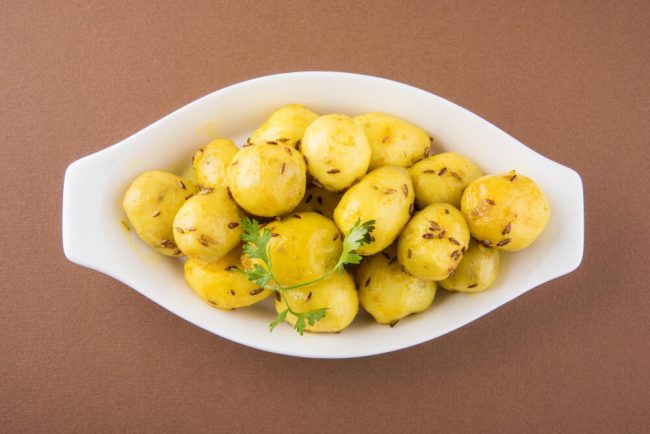 The traditional dry Indian meal jeera-aloo is very simple to prepare and has a mouthwatering flavour. Cumin is the star ingredient in this straightforward stir-fry, which is made with basic Indian spices, cooked potatoes, and cumin. Therefore, our Jeera-Aloo recipe won't let you down whenever you are short on time but in the mood to have something lovely with your chapati, roti, or dal!
Ingredients
Oil, two tablespoons
One tablespoon of cumin seeds
Red chilli powder, 0.5 teaspoon
Salt, one pinch (To Taste)
Potato, 500 grammes (Boiled & Cut Into 1 Inch Cubes)
Coriander leaves, two tablespoons (Chopped)
Method
5 to 6 medium-sized potatoes (500 grams) should first be scrubbed and rinsed in water. In a stovetop pressure cooker, Instant Pot, or pan, boil or steam the potatoes with 1/2 teaspoon salt until they are fork-tender and thoroughly cooked. Avoid overcooking them or they'll turn mushy.
Wait for the stovetop pressure cooker to reach zero pressure before removing the cover. After 5 to 7 minutes, perform a quick pressure release (QPR) in the Instant Pot. Just enough cooking should occur for the potatoes to be fork-tender. They should still be hard enough to tolerate subsequent skillet cooking.
Peel the skins off the potatoes once they are cold enough to handle, then cut them into bite-sized pieces. After that, it is advised that you measure out all of the ingredients as directed by the instructions below. Making the jeera aloo ahead of time will make it much simpler to cook!
Making the aloo jeera is now necessary. First, warm 3 tablespoons of oil over medium heat in a big skillet.
Reduce the heat, add 3 tablespoons of cumin seeds (jeera) to the hot oil, and stir continually while they begin to crackle. Keep them moving because they should brown but not burn. You must hear the cumin seeds pop and smell their beautiful earthy aroma.
Add two to three finely chopped green chilies once the cumin seeds begin to crackle and change colour (1 to 1.5 teaspoons finely chopped green chillies or serrano peppers).
Cracked cumin seeds and green chilies are combined, coating the potato cubes equally. On low to medium heat, saute the potatoes for two to three minutes, turning often to prevent sticking and overcooking. Together, the seasonings have an incredible aroma.