Native to the Indian subcontinent, shahi paneer is a recipe made with a rich stew of cream, tomatoes, and Indian spices. Mughlai cuisine's Shahi Pane
Native to the Indian subcontinent, shahi paneer is a recipe made with a rich stew of cream, tomatoes, and Indian spices. Mughlai cuisine's Shahi Paneer features paneer cooked in a rich sauce comprised of onions, yoghurt, nuts, and seeds. Shahi Paneer literally translates to "Paneer for the Royalty," as the name says. As a result, items like yoghurt, milk, almonds, and seeds that add richness to the meal are used in the cooking process.
Shahi Paneer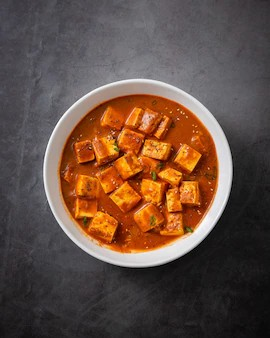 Paneer gravy with a restaurant-style flavor, aroma, richness, and creaminess. At home, it will undoubtedly become your new favorite paneer dish! Mughlai cuisine is where the original Shahi paneer comes from. It's served with a white onion and yoghurt gravy. There are no tomatoes in this dish. Nuts, saffron, and aromatic spices abound. The gravy has a subtle but pleasant flavor because only a few spice powders are used. Because tomatoes and spices (along with saffron and aromatics) are added, the gravy has an orangey-red color, similar to that of traditional Punjabi gravies.
Ingredients for Shahi Paneer:
To make Onion Tomato Puree:
1 tablespoon of butter
2 cardamom pods
1 cinnamon stick
1 black cardamom pod
3 garlic clovesa single onion (sliced)
3 garlic cloves
1 pound ginger (chopped)
2 tomato (chopped)
1 quart of water
1 teaspoon of salt
To make the curry:
1 tablespoon of butter
1/2 teaspoon shahi jeera
1/4 tsp turmeric
1 bay leaf
1 teaspoon powdered kashmiri red chilli
1/4 cup cream (malai)
15 paneer (cottage cheese) cube
Few strands 12 kasuri methi (crushed)
1/4 tsp garam masala saffron / kesar
Instructions How to Make:
1. First, melt 1 tablespoon butter in a kadai and fry 2 cardamom pods, 1 inch cinnamon, 1 pod black cardamom, and 3 cloves. 1 onion, 3 garlic cloves, and 1 inch ginger are now added.
2. Cook, stirring occasionally, until the onion softens. Add 2 tomatoes and cook for a few minutes more. 1 cup water and 1 teaspoon salt are also added. Mix thoroughly. Cover and cook for 20 minutes, or until totally softened.
3. Allow to cool completely before transferring to a blender. Without adding any water, mix to a smooth paste.
4. Pass the puree through a sieve to ensure that it is smooth and silky. Set aside for now.
5. Melt 1 tbsp butter in a large kadai and saute 1/2 tsp shahi jeera and 1 bay leaf. Add 1/4 tsp turmeric and 1 tsp chilli powder to the pan over low heat.
6. Saute for a few minutes, until the spices are fragrant. Mix in the tomato-onion puree that has been produced.
7. Finally, stir in 1/4 cup cream until everything is well combined.
8. Stir in 15 paneer cubes and a few saffron threads until well combined.
9. Cover and cook for 5 minutes, or until the flavours are well absorbed.
10. Add 1/2 tsp kasuri methi and 1/4 tsp garam masala at this point. Mix thoroughly.
11. Finally, serve the shahi paneer with garlic naan or roti.