Unfortunately, travel isn't always as beneficial for your skin or hair as it is for your soul. In actuality, skipping your regular beauty routine and
Unfortunately, travel isn't always as beneficial for your skin or hair as it is for your soul. In actuality, skipping your regular beauty routine and spending time in various climates can swiftly destroy all the effort and time you put into caring for yourself at home. Because of this, whether you're traveling locally or abroad, it's wise to leave that extra pair of shoes at home to make sure your bag has room for the essentials. Uncertain about where to begin? Fortunately, I've got you covered with my tried-and-true collection of makeup needs for travel after multiple backpacking, budget, and luxury travels.
Traveling, whether domestically or overseas, is entertaining and exciting. However, luggage is a problem that can occur when traveling. Limiting your necessities, especially your makeup, is a requirement of light travel. Carrying your makeup kit around is not enjoyable, especially if you just want to unwind and take it easy on vacation. This is where a makeup kit for travel is useful. Check out our collection of must-have travel makeup items so you can experience the world without bringing too much with you.
Turn on vacation mode to travel with these essential beauty products. To get a list of items to pack for your trip, click through!
Basically, take them if you don't take anything else:
1. Makeup Kit for Travel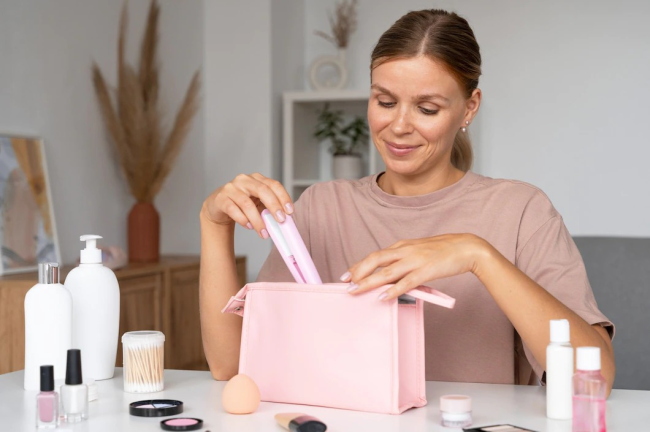 When traveling, it's ideal to keep your cosmetic regimen quick and easy. You only need a little powder, mascara, and lip gloss to finish your look! Plus, you'll sweat it all off in an hour if you're traveling to a tropical region. Even the most seasoned makeup artist may find it challenging and overwhelming to put together a good makeup kit, let alone a makeup novice. It can be challenging to choose the products that are best for you when there are thousands upon thousands to choose from.
2. SPF Face Moisturizer while you travel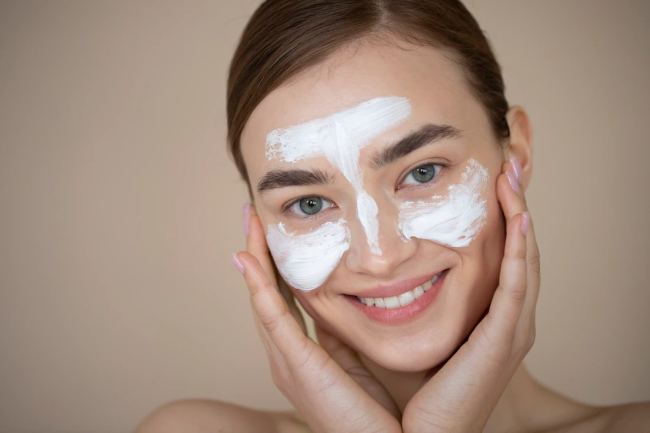 One of the most important travel cosmetic items you can bring is a high-quality face moisturizer with SPF. During your trip, you'll probably spend a lot of time outside, and even when the sky is gloomy, the sun's rays can harm your skin. Even though this isn't really a makeup item, you should always travel with a reliable sunscreen. When used as indicated, SPF Face Moisturizer helps protect against sun damage, avoid sunburn, and reduce the chance of developing skin cancer. Sunscreen is a necessity for your beauty travel bag because we typically spend a lot of time in sun-hazed locations. Today's market also offers BB creams, which combine the benefits of a sunscreen and a fairness cream. Also, you could try that.
3. Tissues for Absorbing Oil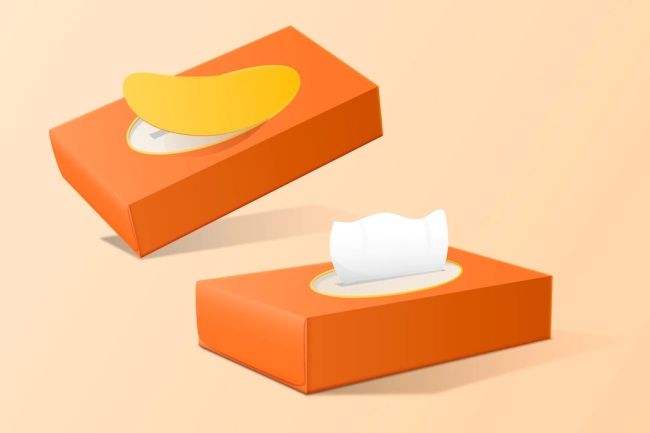 Ideally, you'll be traveling somewhere warm and sunny to escape the miserable weather back home. But those hot temperatures usually make people sweat a lot. Before you depart, pick up some oil-absorbing tissues to avoid being shiny in all of your holiday pictures. A box of moisturizing face wipes is a need to have on hand for freshening up after a fun-filled day or removing makeup. These moistened facial wipes gently cleanse the skin of pollutants, debris, and pollution while nourishing it with aloe vera, cucumber, and vitamin E. They are portable, so you can use them at the beach, the airport, or even while riding the bus to work. They will instantly calm you down and give you a feeling of renewal.
4. Deodorant and Fragrance while you travel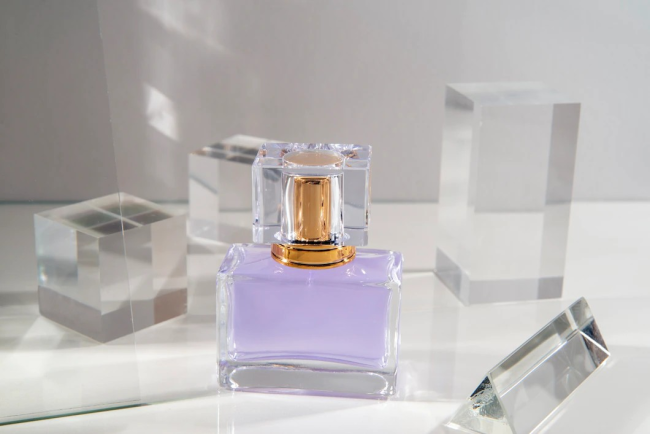 Keep yourself clean and odor-free whether you're going to cold Alaska or tranquil Thailand. A quality cologne needs to be at the top of your list of beauty necessities. When you are near a place that offers good seafood, you don't want to smell like a fish. A nice scent in a compact form is the ideal traveling companion. Choose a small item to pack in your travel bag. It is therapeutic to smell as lovely while you are tired as when you are sitting comfortably in nature.
5. Face Oil or Serum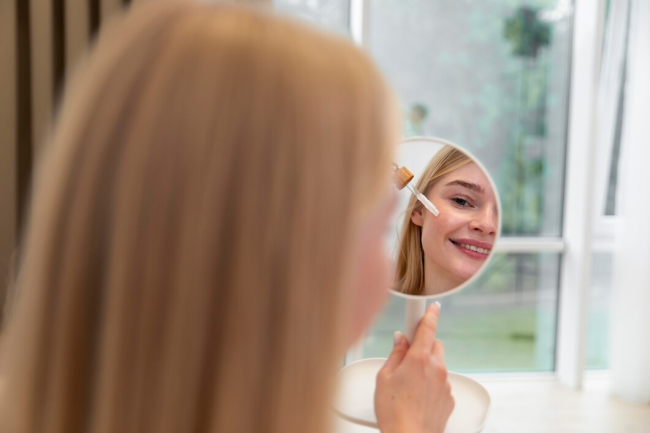 You're really missing a trick if you don't already include a face serum or oil in your daily skincare regimen. This beauty essential will give you a healthy-looking glow even before you go outside in the sun because it is made to lock in moisture and keep your skin feeling lovely and soft. Use a hyaluronic acid-containing face serum throughout the day and a nourishing facial oil at night to prevent your skin from drying out.
6. Shampoo Conditioner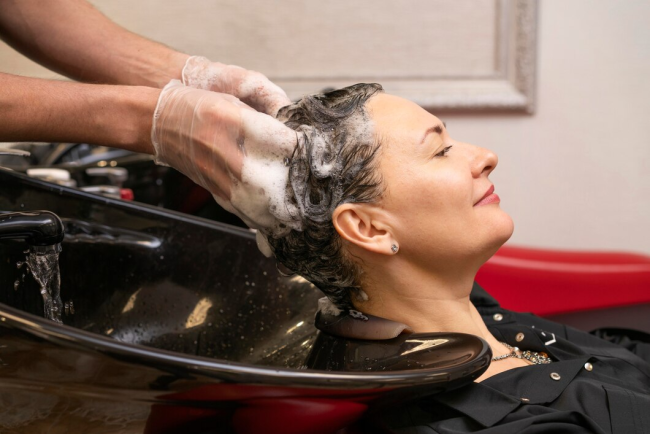 Chances are, whether you're staying in a hotel or Airbnb, you'll be given some basic items, like shampoo. Even though free stuff is great, you should still use your own moisturizing shampoo to prevent the straw-like texture you'll inevitably get if you spend a lot of time outside in the cold or the sun. Given that washing your hair every other day while traveling can be extremely painful, it's time to pamper your hair with some high-quality dry shampoo. It nourishes the roots and combats ongoing travel-related hair damage like no other.
7. Nail Polish and Nail Polish Remover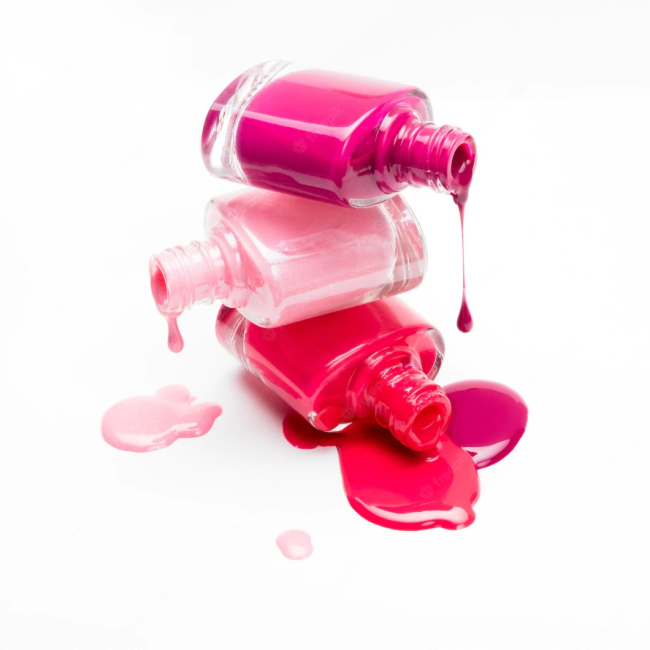 Don't let inconsistent color and form make your nails feel the strain of your journey. Bring all of your favorite nail polishes to show off. Additionally, it would be beneficial if you brought nail clippers with you to trim and/or shape your nails. You must remove the old coat from your nails if you want to change the color of your nails every day or to match each dress. Thus, remember to have nail polish remover in your pack.
The Conclusion
No matter where in the globe you're going, having a selection of travel beauty necessities on hand can make it easier for you to maintain good skin, vibrant hair, and an efficient makeup regimen without undue stress or needing to buy too many things while traveling.
We have the ideal travel-friendly cosmetic bag for you to hold your travel makeup and accessories. Your makeup tools should be conveniently stored in the case's carefully created adjustable sections. This makeup bag has enough room to hold all of your cosmetics, makeup tools, and other travel-sized personal care items. We hope that everyone understands the importance of keeping a schedule even when away from home. You can use the travel advice we've provided to be healthy while you're on the road. To make this process simpler, pack all of your belongings in a pouch that you can easily retrieve from your carry-on or travel luggage.
Pack your cleanser, moisturizer, and sunscreen at the very least if space is restricted. It is incorrect that taking care of your skin is necessary when you are recovering at home. However, if you are considering a lengthy trip, it is necessary.